Drive Sales & Improved Services
OpsCentral IM - WhatsApp allows the agents to engage customers in support inquiries and purchasing process. The integrated interface enables agents to respond to customers communication across multiple channels - IM, email, and call in one queue.
OpsCentral IM - WhatsApp uses the same role-based analytic and reporting, supervisors enable to manage agent and work performance based on contact centre metrics. Real-time dashboard and supervisor consoles for agent monitoring, recorded chats can be used for training purposes.
Customers rate their Instant Messaging experience positively.
OpsCentral IM has recently included one of the most popular cross-platform instant messaging service – WhatsApp into the system. Allowing Agents to service their customers via WhatsApp chat, increasing productivity and customer satisfaction.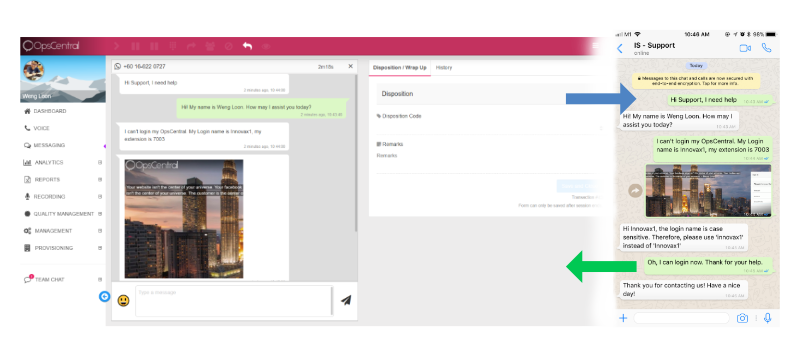 Session-based Chats
Customer-initiated chats handled by multiple CSOs (or Agents) simultaneously
Auto Routing
Route chat sessions to CSOs with appropriate skill-sets.
Wrap up
Enter remarks and wrap up information about chat session
Reports
Get insight to time customer spent waiting before chat is "answered" (SLA), chat time, and handling time.
Trace
Search for and display past chat sessions.
Other possibilities
Chat-bots and Deep data-analysis of conversations.
Call or WhatsApp +65 6701 1888 for More Information